Short URL Creator Script
Short Easy URL Script
Quick and easy redirection.
Clean up or hide your affiliate links.
Mask real web addresses with one you choose.
Shorten long web addresses for emailing.
Make easy links to listings on auction sites.
Update your auction URL's links daily if needed.
Make URLs that you can explain over the phone.
This script creates real static web pages.
Easy 5 Minute installation.
Requires a Linux or Unix server with PHP and setting permissions to 777.
We can install it for you, if you need assistance.
The sky is the limit of what this script could be used for.
What is a URL Shortening?
First let's start with the definition: URL = Uniform Resource Locator
This is the unique full address to particular page of a web site on the Internet, and is what shows in the address bar. It usually begins with HTTP, but may begin with HTTPS for SSL secure pages.
Usually your home page URL will look something like this:
http://www.example.com
Take a close look through your web site to see if you have any URLs that look like this:
http://www.example.com/catalog/bin/scripts/cart.php?prod_id=3935837&n=1&b=9
Shortening the URL to the length below would make it easy for your web site visitors to understand the topic of the page from the URL, and would be easier to explain over the phone or email. Plus, if you had to click one of these links in an email, which URL would you most likely click on? (The one above or below.)
http://www.example.com/url/gold.html
Hide Affiliate Links
Web site visitors are becoming more educated on clicking affiliate links, and may avoid them thinking they can save money from buying direct, so they don't have to pay you a commission. They just don't understand how the affiliate system works. What if you could turn those long messy affiliate links into something more attractive like this? 

http://www.example.com/linkpartner/moneymaker.php?affiliate_id=16399934
or
http://www.example.com/url/business.html
Email Problems
There are many possible issues that long URLs may cause. One issue is that you many not be able to email a working link of your site to a friend or client. The link may take up two lines in the email, and may break after the (&) ampersand or (?) question mark, therefore cannot be properly clicked.
Screen Shots of Easy URL Creator Script
This is how Easy URL Creator will work on your web site and with your domain name.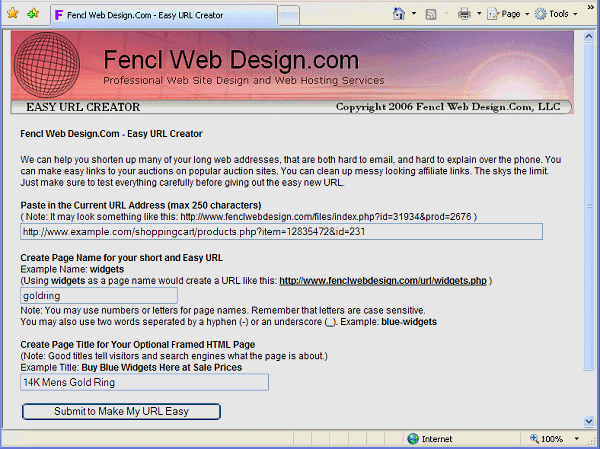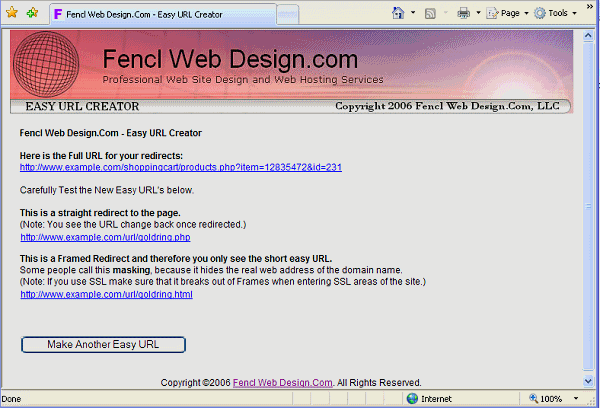 Buy Easy URL Creator Now
Order Easy URL Creator Script for only $39.00 
Download it instantly. 
For use on Your Web Site with Your Domain Name. 
Easy 5 Minute installation.
Requires a Linux or Unix server with PHP and setting permissions to 777. 
If you require assistance we can install it for you. 
100% Money Back Guarantee if it does not work with your web site, server or web hosting.

Do You Need a Full Site Fix?
Is your whole web site plagued with long URLs? Do you need your entire site fixed? 
See our Short Clean URL Examples and then contact us for a free quote.