Creating and writing the content you need...

How to Get Quality Content and Copy for Your Web Site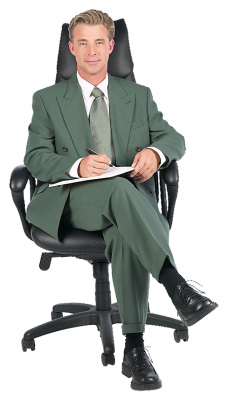 One of the biggest problems in creating a web site usually comes down to the same thing over and over again -
getting quality content for the web pages.
One of the biggest nightmares for every web designer is trying to get enough information and copy from the client to give their web pages enough real content. The client can tell the designer all about his business, but typically they never have anything written that can actually be used for the web site.
You can have one of the most beautiful web sites in the world, but if has little or no content, or if it is poorly edited, it is going to be worthless to you. All the money and the work you've put into it will be for nothing because of two very simple, basic things - a lack of quality content and editing.
The main reason for this problem is that most business owners are too busy running and growing their business to write pages and pages of content for their web site. Or they can't or don't like to write and just simply do not want to. They can delegate the writing to someone in-house, but that usually does not work out well because the quality of the writing is not professional, and it ends up being an endless project.
We are professional writers in the business of creating and writing the content you need for your web site. It's what we do. We serve the web design community and their customers by filling that need for quality content for their web sites. Whatever business you are in, we can provide the content you need for your web site. We write everything totally from scratch for each and every client. Nothing we write is ever copied from somewhere or duplicated and used anywhere else.

High Quality Web Site Content
If you are building a new website, or if your old website is in need of an update, we can create custom, high quality, original content for you to give your website the professional look and feel you need.
If you have a site that is simply lacking in content we can provide you with anything from a few paragraphs per page, to thousands of words per page, to beef it up and give it the content it lacks.
As professional writers we can provide you with custom content and articles written on whatever type of business you're in. These articles will give your web site informative content for your customers to read. They will add value to your web site so your customers will see you are an expert at what you do.
As an example, let's say you own a vacation or travel web site. We can provide articles and content on the destinations you serve, travel tips, information on how to find the best travel deals, etc. This kind of content is invaluable in making you an instant authority on travel and converting visits to sales.

Professionally Written Articles
Maybe you have a florist or greenhouse web site. We can provide you quality custom articles and content on flowers, gardening, plant care, etc.


Maybe you sell bicycles on your web site. You can have articles and content on different types of bikes, bicycle safety, the best helmets to wear and how to pick one, etc.


Maybe you sell Plasma TV's, you can have articles on the different types of TV's, the different mounting systems available, how to choose the right size screen for the room it's going in, etc.
You can now see how invaluable and how necessary, quality content can be to the success of your web site. Whatever business you're in, you can now add quality content and relevant articles, to make your site a professional, informative, authoritative web site.

Adding Content to Your Web Site
If your site is lean on copy and you need to fill it out,
we can add professional content starting at 250 words per page
with a 5 page minimum. This gives you a consistent look and feel on every page and gives your site solid substance. This is the first step.
You can start of as big or as small as you want in adding content to your site, the important thing is to do it, no matter how much or little, do it. The more content the better of course, you can become a super-site if you want! But too little content is the kiss of death for your web site and all your hard work; you will simply be wasting your time and money. You must start somewhere. That's where we come in.
The most important thing to remember is that every word of every article we write for you is written totally, completely from scratch. You will have 100% completely original content on your web site that belongs to you and only you.
The next step, once you have a solid web site with some solid content and a consistent look and feel, is to add value to it by adding informative articles. Of course the more articles the better, but you should really have at least three or four articles, relevant to your business, on your web site.
The articles we provide are written based on the number of words (word count) in the article. We have three different lengths, or levels, of articles we can provide you. It is entirely up to you how you mix and match the sizes of the articles, but the important thing is to get at least three or four of them up on your web site. The longer the article the more of an authority you become on the subject, and the more credibility you will have, which may translate into more visitors and sales.

Adding Articles to Your Web Site
The first level is the 'Professional Articles'.
These articles are 500 words in length and are all written completely from scratch.
The second level is the 'Authoritative Articles'.
These articles are 1,000 words in length and are all written completely from scratch.
The third level is the 'Super Authority Articles'.
These articles are 2,000 words in length and are all written completely from scratch.

Professionally Written Copy
To write the articles we use whatever information you can provide us, and then we use over 30 years of newspaper and magazine writing experience to thoroughly research and investigate the topic ourselves and then write these articles for you.
Quality web site content is one of the keys to a successful web site.
And now it's as simple as letting us do it for you!
It's what we do.
We accept Visa, MasterCard, American Express, or Discover. PayPal users may also pay via PayPal.
Please fill out the form below for a free quote.