Unique Metal Business Cards
Have you received such a good looking business card it made you hold onto it?
That happened to me the very first time I was handed a plastic business card. It looked like a credit card. I have to say, it was very impressive. Much more impressive than any cheap plastic pen I had ever received. Plus, every time I went looking for a business card through the stack rubber banded in my desk drawer, that card would always stand out from the rest.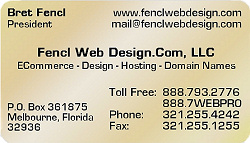 Your first impression in business is just that critical. There are no second chances at a great first impression. That is the reason I have switched to metal business cards. The first time I handed one out, you should have seen the look of surprise on my prospect's face. Needless to say, he called me back two days later to find out where I got my metal business cards. You will see the difference in the way your customers look at your card. They actually look it over when you give it to them. Stand out from the crowd and be unique!
Since I was so impressed with the cards, I decided to contact the company which developed the metal business cards and asked to be a sales rep for them. I am now offering the metal business cards today as part of my offline advertising for web sites. Try advertising your web site on one of these business cards and your customers and prospects will almost HAVE to take a look. 
Are you going to a tradeshow? These metal cards are a must have at tradeshows. Your prospects will speak with potentially 50+ people at a tradeshow, so you must be memorable. Forget the cheap plastic pens, these cards are right around the same price and yet much more effective. (As low as 55 cents each.)
Our metal business cards are highly resistant to both scratching and fading, and are printed utilizing an anodizing process on sturdy gold-colored brass plating or silver aluminum.
The cards are made from .011 inch silver aluminum or gold color brass-plated aluminum. 
Special dies are used to create the metal cards, with rounded corners and dull edges to help make them safe for everyday handling.
Special dies are used to create the metal cards, with rounded corners and dull edges to help make them safe for everyday handling.
You can design your metal cards yourself online now, and see what they will look like. Test it several different ways. Our unique card design studio site allows you to send proofs to friends, or co-workers, for approval and opinions before ordering. It is free and easy to use our card design studio.
2in x 3.5in (50.8mm x 88.9mm) .011 in. thick metal stock
Choice of black or blue print (1 color 1 side) 600 dpi printing
Protective coating (Virtually indestructible)
As low as 55 cents each USD
Free Setup (No setup charges)
Do you need to use your logo? 
Then just email us your logo when ordering.
Courier Shipping*
*** Design Cards Online - Place an Order ***
Sample Cards
We receive many inquiries per day for samples. If you are in the United States and require a sample metal card, then you may order one, by clicking the button below, for $1.90. This amount is simply to cover our shipping, handling, and metal card costs.
*Includes Continental US, Hawaii, Alaska, Canada (does not include extreme rural areas, Canadian Territories, points outside US and Canada). Products purchased for shipping not within Continental US, Hawaii, Alaska, Canada are shipped by standard post.