Stolen Photos and Copyright Infringement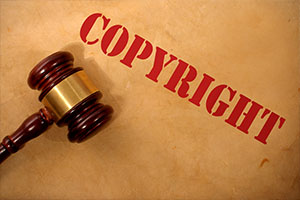 If someone were to waltz into your home and have a field day taking the food out of your kitchen, how would you feel? Didn't you work to put that food on the table? That's time that you spent working for the money to be able to have a full kitchen to feed yourself, and perhaps a family. What if I were to tell you that is exactly what someone is doing when taking a photo off of a public website or blog, without first obtaining rights to use said photo?
Photography is a hobby for some, a career for others, but regardless, they have taken these photos. They own the rights to the work they have done in order to capture that image, and you are stealing from the photographer if you do not have rights to use them. Many people are unaware that Copyright Infringement is being committed every day. It's as simple as right-clicking and pressing "Save As'".
Copyright Infringement comes with Serious Repercussions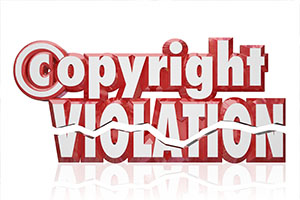 One of the repercussions is being sued by the big dogs at Getty Images. Now, you're probably wondering who Getty Images is. They are one of the largest (if not the largest) suppliers of stock images in the world. They have rights to over 80 million still images and illustrations. That's no small number, and the bigger your website, the more likely you are to get busted.
Think about this…. It seems innocent enough to see a picture that you think would look great on the homepage of your website, and you say to yourself that it's no big deal. However, statistics show that there are over 3 billion internet users in the world. Think about how many stolen images that is. That is a tremendous amount of money being siphoned from the person who actually owns the original image. If you are to get caught, and believe us, with today's technology you are extremely likely to get caught, there are serious consequences. Not only can you get hit with a lawsuit and an astronomical fine, your website can be shut down. That's not exactly conducive to promoting your services or your product.
COPYING IMAGES
---
IS ILLEGAL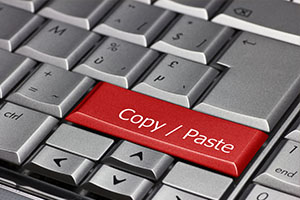 Images on a Website
Having images on your website is a great way to catch peoples' eyes, but it's very important that you make sure you are doing it legally. Here, at Fencl Web Design, we purchase all of our images or create them ourselves. Even if you have another person or a company design your website, if they are using stolen images, you can be held personally responsible as if you stole that photo yourself.
Our goal is to design a website for you that will not only help you reach more people, but to ensure that you don't open up your mailbox one day to see a letter from a law firm or a photographer telling you that you are going to be sued in the court of law if you do not promptly purchase rights to images you have stolen. Another way people are committing copyright infringement is by "sharing" on social media. This is something that can confuse a lot of people. They think, "I'm not the one who took the image originally, I shared from a blog. I am not guilty." Wrong. Again, it is so important to be aware of Copyright laws before you blindly repost, retweet or share an image. This is not just a mistake if you own a website or business, it is also illegal if you are posting on a personal blog or social media page.
A lot of our clients come to us with a website that was made by either them or someone else, and we have run into instances where there are stock images on the sites that we can see were just taking from a search engine, blog, or other website. There are far too many cases of people being sued for Copyright infringement and we will not make you one of them.
There are many people who are at higher risk for being sued, some who are at risk would include: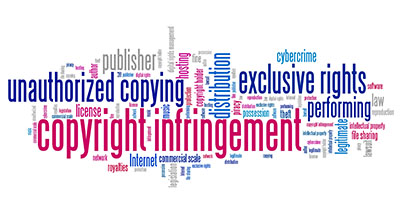 Web Developers
Web Designers
Blog Owners
Website Owners
Business Owners
Realtors
Graphic Designers
Religious Organizations
Charity Organizations
The types listed above are at higher risk of Copyright infringements, because we cannot stress this enough: the bigger the fish, the bigger the risk. A man from St. Louis was sure very surprised to receive a letter from Getty Images demanding that he cease and desist using for images, which he had illegally obtained. Promptly after deleting the 4 photos, he would have to fork over a whopping $4,000. If the $4,000 fine was not paid within 14 days, he was informed that Getty Images would be pursuing damages. It would seem no one is immune, in a famous case; a church in the United Kingdom was sued by Getty Images for £6,000, which is $9202.50. Another case that made it into the news was a story of a photographer. There were photography agencies that had been using his photos from his Twitter, documenting the 2010 earthquake tragedy in his homeland of Haiti. Not only was this probably very emotional for Mr. Morel to see people using photos that captured the feelings of grief, loss, and destruction; but like we stated earlier, these photos were works of art that HE went out and took. For other people to pass them off as their own was costing him money, money that he rightly earned. He was awarded $1.2 million. Now, we're not sure about you, but we think that is quite a hefty bill. We truly hope that this article has been helpful and informative to you. It is important to know that any upstanding web designer(s) will never be on board with using stolen images for a website. It may seem cheaper, but the risk is certainly not worth it.
If you would like further assistance regarding website copyrights and stolen images contact us at 1-888-793-2776 and we will be happy to assist you.
// end #main-content .equal ?>

// end #main-content ?>