Professional Newsletters and Emails
Need for an Email and Newsletter Service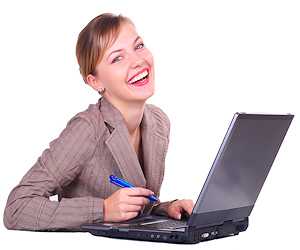 When used to it's full potential, email marketing can be one of the most powerful tools available to market your business, communicate with your clients, and develop lasting business relationships. Using a typical email client (e.g. Outlook®, Eudora®, Hotmail®, AOL MailSM, Yahoo® etc.) to send your email to a Bcc mailing list, is not using the real power of email marketing properly. Why is this? Because the standard email clients are not designed to be used as marketing tools. They have significant limitations in their design, and the way your ISP handles email from them. That can actually undermine your email marketing instead of making it successful.
There are now email marketing services online that specialize in providing powerful email marketing, and are designed to make the whole process easy for non-technical users. By using these online services, you can avoid the problems and mistakes associated with an email campaign, and not have to worry about the whole email spam issue.
Below are the top reasons for using an email marketing service instead of doing it yourself. These all happen to be the exact benefits you will NOT get from using a standard email client.
Take our free trial offer by pressing the button below.

Reasons for Using an Email Marketing Service:
Spam Blocked? Approved For Bulk Mailing
In order to control email spam, most email clients, and almost all ISP's, severely limit the number of emails you can send at once. Spam blocking is a HUGE problem. ISP's, Hotmail®, and Yahoo Mail® can spam block many legitimate newsletters and emails, if not done correctly. Professional email services will have strong working relationships with, and be approved by, ISP's, and are allowed to send bulk emails. 


Following Recognized Mailing Practices
Professional emailing services follow recognized spam and emailing practices. For example, failure to include unsubscribe instructions by including an unsubscribe link or snail mail address is now against the new spam laws. Professional emailing services ALWAYS provide an automatic unsubscribe option that is usually effective immediately. In addition, they will provide continuing education about mailing practices, through free newsletters, to keep you up-to-date on various practices, changes, topics, and trends. Additionally, they will usually give tips on the best days to send emails, how to write a good email, good subject lines, and more. 


Provide List Hosting and Management
One of the most important services a professional email marketing company provides, is list hosting and management. This includes adding new subscribers, the ability for subscribers to edit their information, and the option to unsubscribe instantly, with just one click. By law, an unsubscribe request must be processed within 10 days, so this is an extremely important function. They will maintain the mailing list for you, which includes: identifying the bounced, or 'dead', email addresses, the full mailbox messages, spam complaints, vacation messages and so forth, and removing or keeping those addresses for your list. 


No Software or Support Staff
Since you do not have to maintain your own email lists, or learn and then use a bulk-email software package, a professional emailing service will save you precious time and money. With professional emailing services, the technology and infrastructure is already there. They have the bandwidth, equipment, and people, to get the job done. They will even have user-friendly newsletter templates and wizards, for you to set up your email quickly and easily. Most services do not have set-up costs, and many provide free support. 


Handle Formatting Automatically
Email clients all handle emails in either HTML or text format, depending on the user's preference. Standard email clients can't tell which format your recipient needs to receive, so some of your clients will end up getting gibberish. A professional emailing service sends your email in a multi-part format so that each recipient will receive it in the correct format. This is an advantage because the response rate is 35% higher with HTML than with plain text newsletters. 


Create Eye Catching Emails and Newsletters
Most email services provide professionally done HTML templates to make creating your emails easy, and make it look great, without any knowledge of HTML. They are usually pre-formatted, which includes all of the fonts and placeholders for graphics, logos, etc., to create a look that matches your website or brand. 


Higher Email Deliverability
A professional emailing service will monitor outgoing email to make sure that all the major ISP's are accepting your emails. They maintain strong permission policies, and have an anti-spam blocking team that works with the receiving ISP's to make sure your email is getting delivered. They have strong working relationships with the ISP's, follow all the protocols, and are white listed, to make sure your email is delivered. As a result of this relationship, when there is a bounce, or a problem at the recipients end, they are then able to make continued attempts to send it, while quickly identifying the problem with the ISP, so your email goes through. 


Allow You to Measure Your Results
Email services have tools that allow you to measure and analyze the results and responses of your newsletter and email campaigns. They can report on the number of emails sent, the number opened, who opened them, who clicked through them, and which links were clicked; as well as subscribes, unsubscribes, and spam complaints. This is all vital information to have that will help you understand and create more effective email campaigns. Monitoring and quickly addressing the spam complaints is essential to staying on the good side of the ISP's. Using a standard email client, you won't know about the complaints, and your email could be perceived as spam, which could cause everyone on your entire corporate email server to be blocked from sending emails. 


Include Updates and Enhancements
It is vital to stay current with the latest in legal compliance and technology, with regards to the issue of spam. With an email marketing service, this is all taken care of for you. That is their business. They always have the latest technology, and follow the latest requirements in bulk emailing, to protect you and optimize your email delivery. Look for an email service that is a member of The Email Service Provider Coalition (ESPC). The goal of the ESPC is to provide new spam-fighting solutions and technologies. These new technologies, such as email authentication, will be integrated into your service automatically. 


It Costs less
Factor in the cost of software, the time spent creating your newsletters, the time spent managing your lists, handling unsubscribes and spam complaints, and all the other time and resources spent on your email campaign; it's easy to see how you can save real money by using an email service. All the infrastructure costs and expenses are their's; that's what you pay them for. They will keep up with all the latest laws and technologies, at no expense to you. This allows you to spend your time doing your job: growing your company, product, or service. Email costs a fraction of a penny, per email, to send, yet has a response rate five time greater than direct mail, and 25 times greater than banner ads! This makes email marketing the most cost-effective way possible for you to directly market your business, build branding and loyalty, and generate new customers. 


Communicate More!
With email marketing, you can easily create a mailing, at very little cost, whenever the need arises, or whenever you need to send out important information quickly. You can send out news, promotions, newsletters, sales announcements, contests, events, offer new services, and much, much more. 


Increase Sales - Educate Your Customers
Customers are much more likely to buy when they can make an informed decision. An email campaign informs your customer of your current products or services, and leads them through the purchase process, all in one communication. Try doing that with direct mail! Even just using an email newsletter to build loyalty, and offer your products and services, will allow your well-educated customer to purchase from you, on impulse, when they need what you are offering.
Foster Loyalty and Long-Lasting Relationships through Newsletters
Email newsletters are a very effective and inexpensive way to create branding, customer loyalty, and develop long, lasting relationships. The benefits of these long-lasting relationships are educated, loyal customers that come back to you when they need what you offer.
Get Started with a 60 Day Free Trial
You have nothing to lose, so please accept our free trial offer by pressing the button below.

// end #main-content .equal ?>

// end #main-content ?>