Fix Problems and Issues Caused by Browser Updates
Update Your Web Site So It Works Properly In The Latest Browsers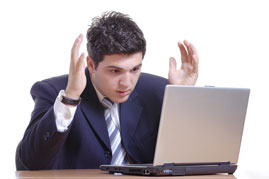 Including Internet Explorer 9 (IE9) and Firefox 4
Now that new browsers like IE9 have been released, older web sites are starting to break as compatibility issues emerge. If you have not downloaded the latest browsers yet, now is the time. Look at your web site in each of the latest browsers: IE9, Firefox 4, Chrome 10, and Safari 5. Does your site render properly in each of them, or are things starting to break? If your web site is no longer functioning properly in the latest browsers, your business can suffer as you lose the trust and professionalism of your web presence. When your website is broken, potential customers may shop elsewhere.
Why Is My Web Site Broken in IE9?
Websites can stop working properly for a variety of reasons; the most prevalent of these being poor coding. Cheaper web designers often code haphazardly in a rush to get things done; implementing hack after hack, and spitting out buggy code that not only performs poorly, but can also lose functionality entirely as newer browsers emerge. A web designer who does not know what he/she is doing can unwittingly introduce a series of flaws into your site, potentially causing irreparable harm to your business in the future.
Another factor that causes web sites to stop working properly is age. While simpler web sites built years ago may look and function the same now as they did then, the more complex sites often implemented complicated styling and scripting that not only broke down between browsers of the time, but do so in today's browsers as well. HTML tags that worked 15 years ago are depreciated today. The older and more complicated your website is, the more likely you are to run into problems as browsers continue to update.
How Can I Fix My Web Site?
If you find that your web site no longer looks or works properly in the new browsers, you need to act fast. Broken web sites say to your customers that you are not professional. If you can't be trusted to keep your own business up-to-date, then how can you be trusted with your customers' money?
Don't worry, we can help! With Fencl Web Design's web site reparation services, we can go into your web site and fix whatever is broken, ensuring compatibility across the latest major browsers. We will update out-of-date or poorly written code to make sure that your site performs well in the latest versions of IE9, Firefox 4, Chrome 10, and Safari 5. We will write clean, straightforward code using proper coding methods. If your website is beyond repair, Fencl Web Design can create new pages and web applications from scratch, matching the look perfectly to what you already have. Or, if you prefer, we can upgrade your site to a new professional look and feel that matches today's standards.
Don't Lose Business Because of a Broken Web Site
Call Fencl Web Design today for a free quote. We will work with you to determine exactly what services you need at a competitive price. Don't continue to operate on broken code, get it done the right way now!

// end #main-content .equal ?>

// end #main-content ?>